Workers' Compensation Care in Rockingham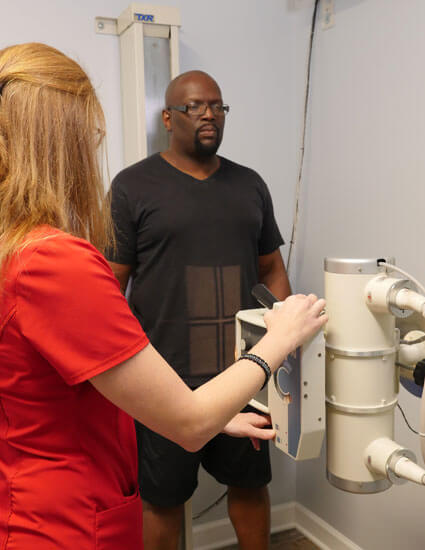 Did you know that back pain is the most common workplace injury? It's the reason most Americans have to call into work. Whether your job involves heavy lifting, long periods of standing or extended time at a computer, it can take a toll on your entire body, particularly your back. Chiropractic can address your pain and prevent it from returning.
The Most Common Workplace Injuries
Repetitive motions and physical labor are responsible for a bulk of workers' compensation claims in the U.S. Some of the injuries we see the most include the following:
Herniated disc
Muscle sprain
Sciatica
Carpal tunnel syndrome
Sprains and strains
You may have severe pain, numbness or tingling depending on the nature of your problem. Rather than mask it with a medication, chiropractic targets the source of your issue.
The Bureau of Labor Statistics reports that nearly 3 million people were injured while working in 2012. If you work as a service provider or in manufacturing, you are particularly susceptible.
If you are hurt, file a claim with your employer. Afterward, give our office a call so that you can set up your chiropractic appointment and get the care you need.
How do I know whether I have a work-related injury?

Your employer has workers' compensation insurance. The insurance company may require proof that your injury is work-related. It's simple: did you get an injury while performing a task for your employer? If so, then it is work-related. You can even have it occur outside of work, such as while riding in a company vehicle.
How long will it take to recover?

We want you to return to work and your normal activities as quickly as you can. Each injury is unique, meaning the time and type of care you need may be different from another case. We'll work with you to develop a personalized care plan.
What types of injuries can chiropractic help?

Most injuries that occur in the workplace affect your musculoskeletal system. Back pain and injury are the most frequent that we address. No matter what your concern is, we will assess you and let you know what we recommend.
How can I prevent future workplace injuries?

Heavy lifting, improper posture, repetitive stress and overexertion are usually the cause of a workplace injury. To prevent these issues from occurring, we recommend that you see us periodically. These visits will keep your body in the best possible shape. You can also wear a supportive brace while working or be sure that you take frequent breaks.
Book Your Consultation Today
Get attention for your injuries. Contact us today to schedule an appointment for workers' compensation Rockingham! We have same-day visits available.
CONTACT US »
---
Worker's Compensation Care Rockingham NC | (910) 817-7126