Massage in Rockingham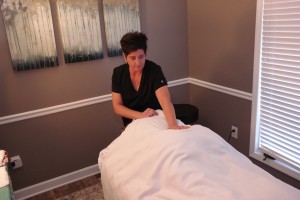 When you combine chiropractic and massage, you'll get quicker and more effective results. If you have a massage before your chiropractic adjustment, your muscles will become looser, and the adjustment will be easily done. Not only do we recommend massage, but we offer it on-site at Murphy Chiropractic and Wellness, P.A..
Our Massage Techniques
For thousands of years, massage therapy has been used to relieve stiff muscles, back pain and injury. There are more than 100 different massage types used around the globe. Though each has its benefits, all of them have the purpose of relieving stress, improving range of motion, releasing toxins and alleviating pain and stiffness.
Our massage therapists offer various types of massage:
Relaxation massage. With smooth gliding strokes and light pressure, you'll feel your body instantly relax. The focus is on improving your blood flow and calming the nervous system. Your lymphatic system is stimulated while your stress is relieved.
Deep tissue massage. Severe muscle tension is relieved with this form of massage. It can address specific complaints using a set of strokes and techniques.
Sports massage. Reach your peak athletic performance, reduce your fatigue, relieve your swelling and decrease your tension with a sports massage. You'll also feel more flexible and prevent your chance of injury.
Pregnancy massage. When you're expecting, you might experience extra tension and aches. This form of massage will address those while reducing swelling and fatigue, boosting your energy and soothing your nervous system.
FAQ
The National Institute for Complementary and Alternative Medicine reports a low risk of complications when you get a massage from a trained, licensed professional. Not everyone is a candidate, though. Your need to ask your primary care physician or chiropractor before getting a massage.
What happens during my massage?
The experience you have will depend on which type of massage you'll get. You can get a 30-, 60- or 90-minute session. You'll consult with your massage therapist in a private room. Then, you'll be left alone to disrobe to your comfort level and lie on the massage table. Your massage therapist will let you know what they're going to do, inviting your feedback on the pressure used. When your massage is concluded, you'll get dressed and check out at the front desk.
Are there any special instructions to follow after my massage?
Yes. We recommend that you drink more water than usual to flush the toxins out of your system that massage will release. Enjoy the feeling of relaxation and let your stresses melt away.
Book Your Time Today
You deserve to relax and feel incredible. Contact our team today to schedule your massage Rockingham!
CONTACT US »
---
Massage Therapy Rockingham NC | (910) 817-7126